Masterclass
Deception Detection and Getting to the Truth
Learn the secret tricks top interrogators and CIA agents use to spot - and stop - liars.
Become a Certified Deception Detection Expert
Get Certified in Deception Detection
Pamela's exclusive, advanced training has only been available to top companies and government agencies across the world.
For the first time, she's offering it to you.
Learn secret techniques to read any room like a pro
Connect with all personality types
Inspire people to divulge deep truths never-before revealed.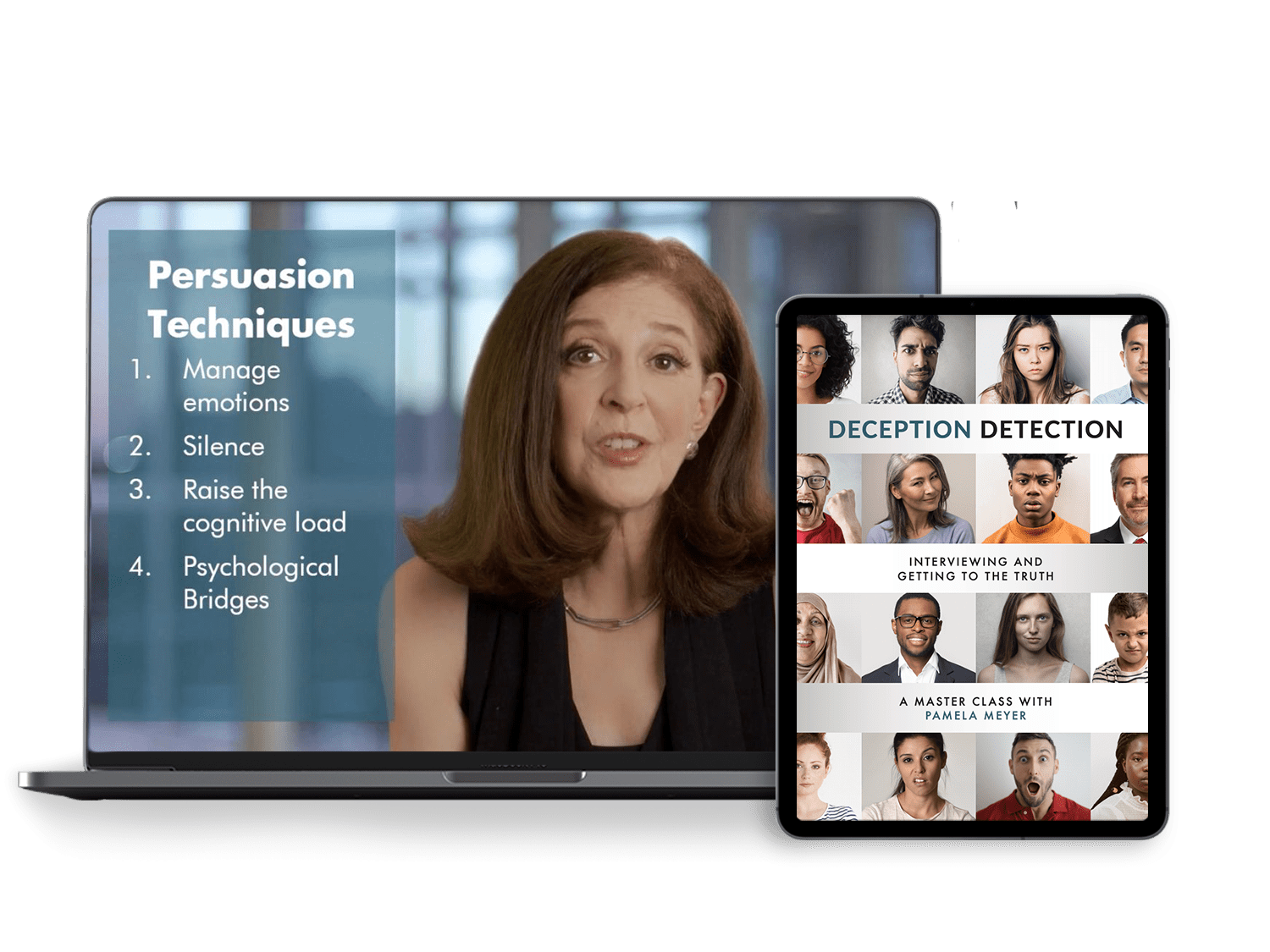 "This Masterclass is full of actionable, easy-to-use, evidence- based tips and tricks. Pamela's clear, engaging storytelling makes each module even more interesting than the last. I can't get enough of this course, and I know it's going to make a big difference not only in my career, but my relationships, too!"
-Mimi Johnson, ETHOS3
What You Get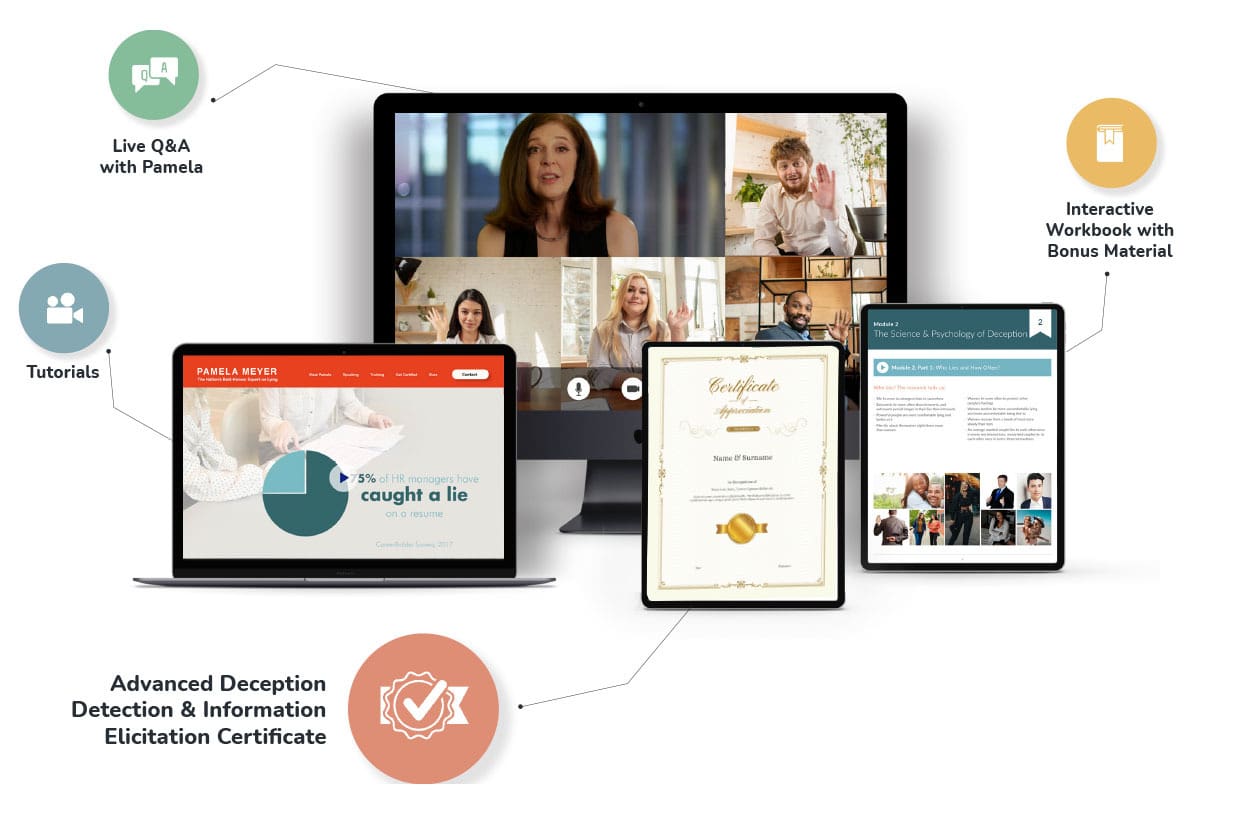 "The workbook is now my bible. I've taken many classes and this is the best resource full of bonus tips and techniques I have ever seen!"
-Alexander Daibes, ABRAMS Books
Get The Entire Masterclass
Deception Detection and Getting to the Truth
11 Day Minimum Course Study
Who Should Take This Course?
Everyone who takes part in:
an interview | a complicated meeting | a negotiation | a pitch meeting | an interrogation | a cross-examination | a forensic analysis
This course is for anyone who might want to ensure that their friends and family are acting with integrity and being honest with them.
If you value the truth, and want to make sure your friends and colleagues do as well, this Masterclass is for you.
"Pamela Meyer is a major league liespotter. Learning from her was like learning from the greats – Gareth Southgate, Michael Jordan, Muhammad Ali – and now I'm ready for any punches life will throw at me."
Ethan Schreyer
Imperial College London
"I binge watched this course. I loved all the celebrity examples.  It's so empowering to know how to pick real allies – not just people who are using me to get ahead. The skills offered in this course are highly applicable in legal work and I'm looking forward to implementing them on a day to day basis. This course provided hands-on techniques that any person interested in uncovering the truth can utilize."
Julianna Dzwierzynski
Epstein Becker Green
"Deception Detection Masterclass was the best investment I made in myself in a long time. Pamela Meyer has opened my eyes to a new way of interacting with people – and the outcome is stunning."
Jessica Ruona
Product Manager, Online Food Delivery Company
"Super Insightful and interesting! Pamela Meyer's course is a treasure trove of useful information that has changed the way I approach relationships and honesty in and out of the workplace."
Liam Torpy
Himalayan Climate & Science Institute
The Course
Become a Master Liespotter, with a professional credential you can use in any field.
Course Content
11 Modules

16 entertaining animations

24 case studies featuring famous celebrities, fraudsters and politicians

13 quizzes

45 videos total

1 102 page workbook with the entire course outlined -no need to take notes
Course Structure
100% online

Certificate granted with successful completion

Self paced

20 hours of advanced training

Access to Pamela's private online groups

Access to Pamela's fast growing online community of truth seekers

Access to Pamela's simple online training platform once you enroll
Preview
Module
Learning Objectives
Module 1: Introduction

Which personality types lie most often and how
The many different types of lies
How deceit is expressed differently in different settings

Module 2: Science and Psychology of Deception

How you cooperate in being lied to – and how to stop
Three rules that arm you against the psychology of deception
How to identify psychological longing
The subtle interplay between "hunger" and bias

Module 3: Liespotting Technique

Spy techniques for observing behavior
A system for establishing "normal" so you can establish reference points for recognizing shifts in behavior
Baselining basics: Establishing "normal" so you can recognize a lie
Why one indicator isn't proof of deception, and how to look for clusters
Transforming hunches into evidence

Module 4: Verbal Indicators

Eight universal ways liars manipulate word choice to avoid telling the truth
How liars parrot, minimize, protest, attack, and detour
What you can learn in the first three seconds after questioning a liar
Identifying deceptive sentence structure

Module 5: Nonverbal Indicators

Seven major human emotions and how to read them on a face
Which two emotions are associated with lying, and which one emotion is always a red flag
How microexpressions and body language betray liars' true intentions
Facial microexpression training: from eyebrows to lip curls

Module 6: Gotcha vs. Getting to the Truth

Cultivating the open, cooperative mindset that breaks down walls and gets people talking
Introduction to the PREP method: A systematic interviewing framework for truth-seeking in any conversation or interaction
Top mistakes even seasoned interrogators make that result in lie detection failure

Module 7: Preparation

How to deep profile your subject
What you can learn from mock trials
Preparing your mind with two secret weapons
How to signal authority and confidence in a first impression

Module 8: Rapport

Beyond Jedi mind tricks: Building genuine (not manipulative) rapport
Surefire rapport busters that will kill any conversation
Advanced rapport building techniques that work with difficult people
The surprising new science of rapport

Module 9: Expert Questions

Eight types of questions, and the best order in which to ask them
How timing influences information elicitation -- when to back off and when to dig in
One confrontational word to avoid
How to neutralize intense emotional response to tough questions

Module 10: Persuasion

Tried and true techniques to address resistance to telling the truth
The art and science of creating irresistible pressure to speak
Seasoned interrogators' top "psychological bridges" that can carry someone over their reluctance to divulge
A three part framework for persuading difficult subjects to cooperate and talk

Module 11: Conclusion

Pulling all these skills together
Finding freedom from the fear of being deceived
How to start building a life in which truth and honesty are supreme values
Join our community